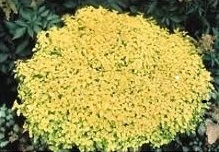 Golden elf Spirea sized for small spaces
These are the ones for tight/small spaces, where the right plant for the right spot really comes into play.
You don't want to plant a shrub that gets 8'x 8' in a space that is only 3' wide just because it is called a dwarf. Dwarf, in the shrub world often refers to leaf size not actual plant size.
It may also refer to the shrub being a dwarf compared to the original. Ex: an 8'x8' Burning Bush is considered dwarf because the original can get up to 16' x 16', but you still need more space than most people realize when purchasing a 'dwarf' shrub.
Some amazing choices of truly small shrubs are: Darkhorse Weigela, Candy Sensation (Symphoricarpos), and Little Devil Ninebark (Physocarpus) just to mention a few.