Often the most important aspects of your landscape are the wall and stair structures. Not only do the make your entire property more useable, they also can really add style and beauty to a space. At Dee-sign Landscaping we use our creative ability and different products to make your walls and stairs as uniquely styled as you are. Unless there is no other option, we try to avoid the 'interstate walls' made of big boring red or tan block. There are so many choices out there for retaining walls and staircases that is is best to consult a professional designer. 'Dee-signers' keep up to date with the newest and coolest products. We have that special design skill of knowing which color blends to use, whether we should mix in natural stone, or use different sized block to create a wall or staircase that fits perfectly with your home and your style.
Built from natural wallstone, boulders, or concrete block, walls can provide access to those hard to use portions of your property while allowing you more functional space in the main part of your yard.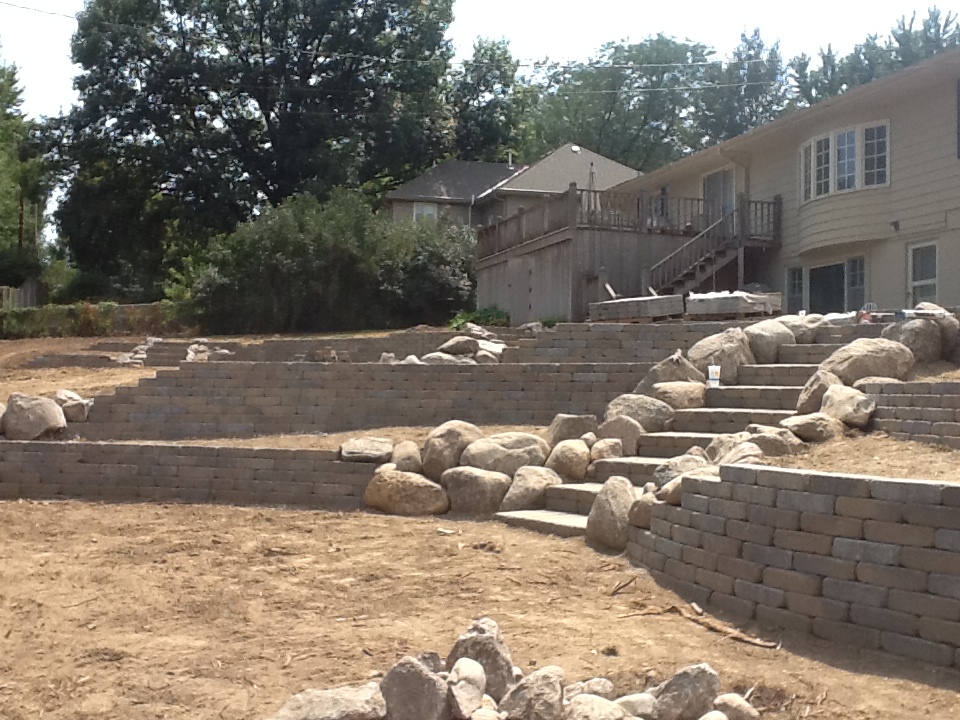 Before building walls, this yard was unusable.
The building practices in Omaha have increased the amount of walk out basements where walls are usually a must to control water and erosion.
Retaining walls really need to be built by a skilled installer. From improper base depth, materials used and drainage control, there are many factors that can cause a wall to fail.
Anyone can drive around and see how many walls are sinking, sagging or even falling over. Price shopping can be dangerous when you are looking for a crew to build your wall. Many of the cut-rate installers are skipping several important steps when building a wall. This saves them money and time giving you a lower initial price, but when you have to pay for the wall to be entirely re-built within a few short years, you really haven't saved anything.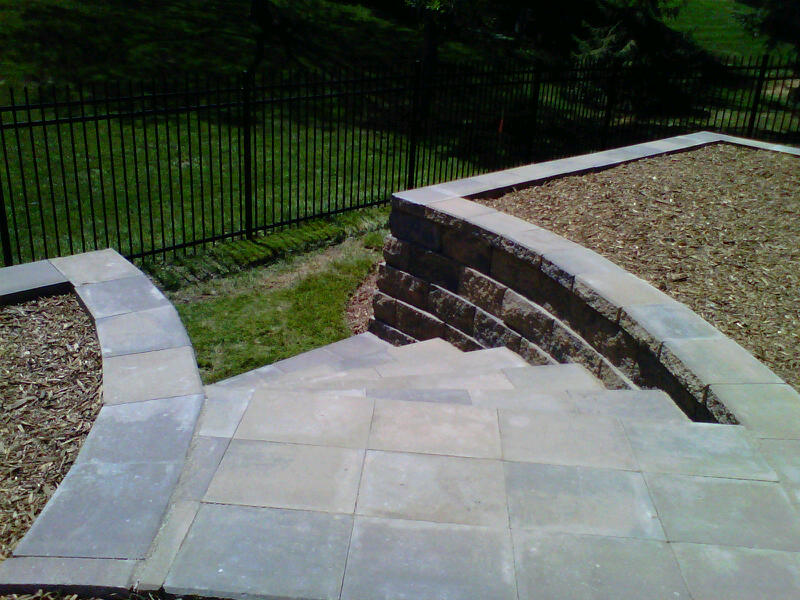 Stairs built into a retaining wall