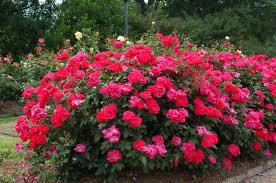 Knockout Rose in full bloom
While we do carry the very low maintenance, everblooming shrub roses like Knockout (deep pink, almost red), Home Run (true red), Yellow Knockout (yellow-cream), and Living Easy (orange).
We also have loads of other choices, to set your landscape apart from the others.
Some of our favorites include: Black Lace (Sambucus Nigra), Bloomerang Lilac (Syringa), several varieties of Weigela, and many more.