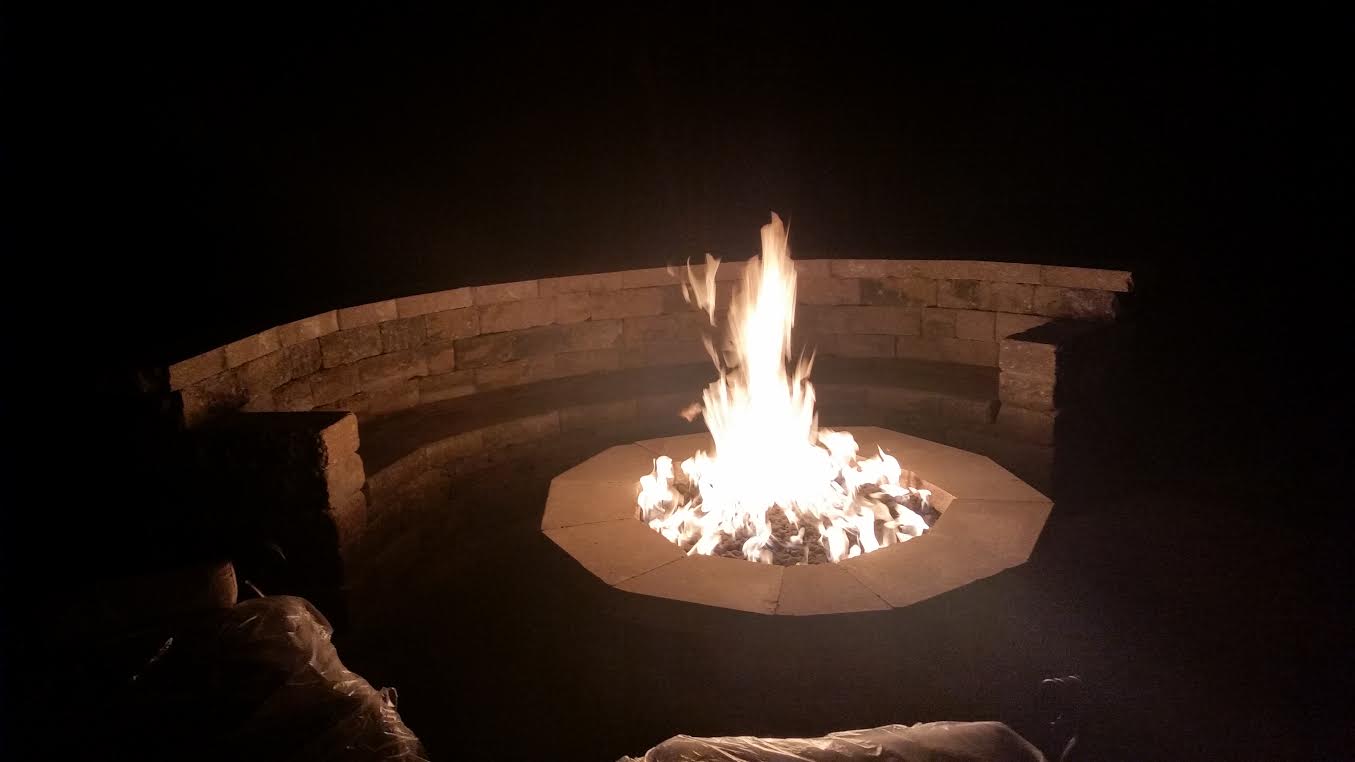 Gas Burning Fire Feature with Built in Couch
Fire features can be very simple like a wood burning fire pit, or more involved, like a built in pizza oven or outdoor fireplace.
Having an outdoor fire feature is just another way to increase the use and function of your outdoors. Our Dee-sign Garden Shop often has mobile fire pits that can be used on any concrete or paver surface (if using wood be sure your fire is at least 10′ or more away from a home, deck or flammable structure). Typically these lower cost features are just a way to find out if you like having an outdoor fire, and serve a a temporary solution until you have something permanent installed. Once you have decided you want fire, it is time to decide what type of structure is most suited to you and your property.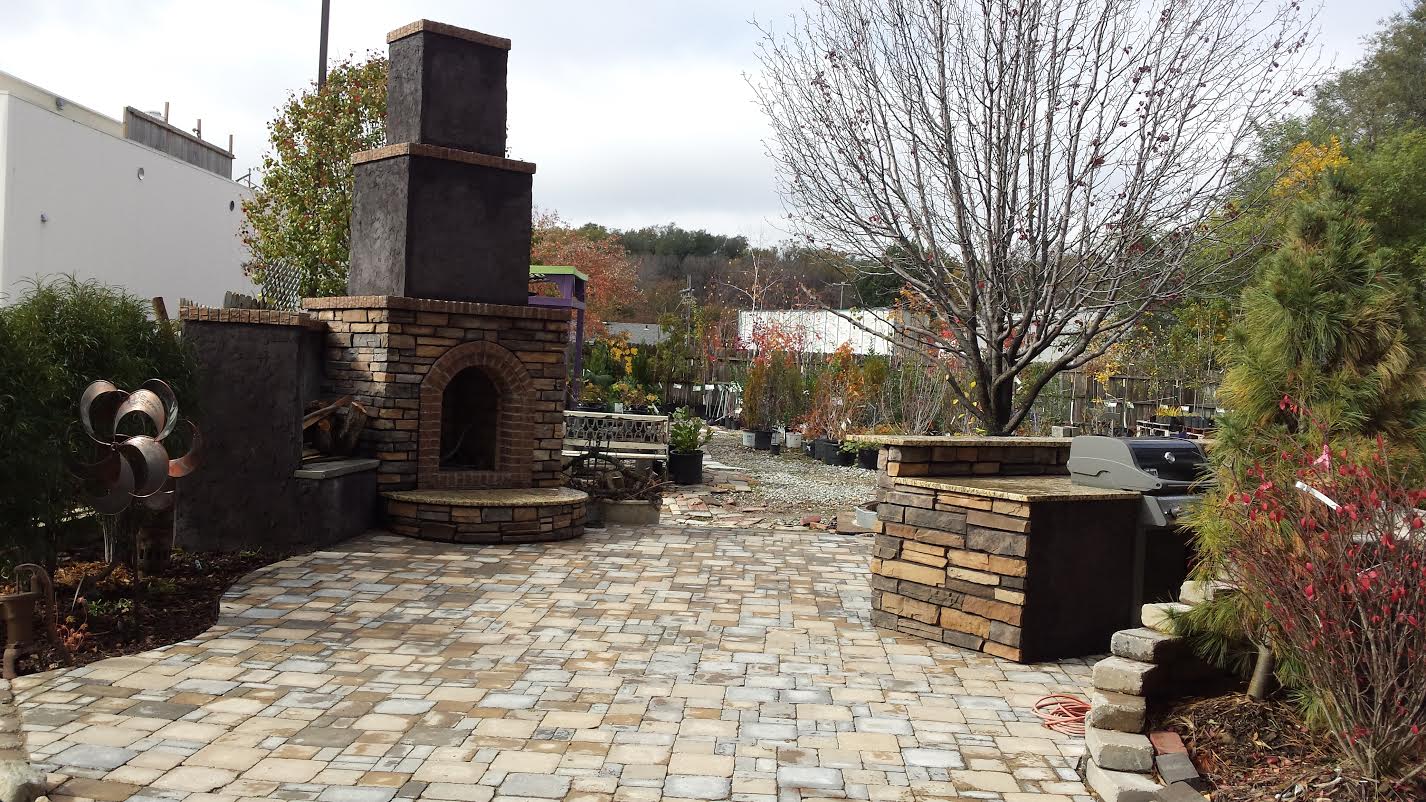 Wood Burning Fire Place
The choices are truly limitless, depending on your tastes and budget. A simple wood burning fire ring can be installed for a fairly low price, or you can increase your options by adding gas. Whether it is a custom built 'fire wall', a grand fireplace, or a simple little fire pit for you and your family to roast marshmallows over, our designers will work with our installers to ensure your fire feature meets your needs perfectly. Clients that have added a fire feature report that they are able to spend up to three months more each year enjoying their outdoor space. Our design and installation teams are amazing, what they can do with natural stone and concrete block will truly astound you.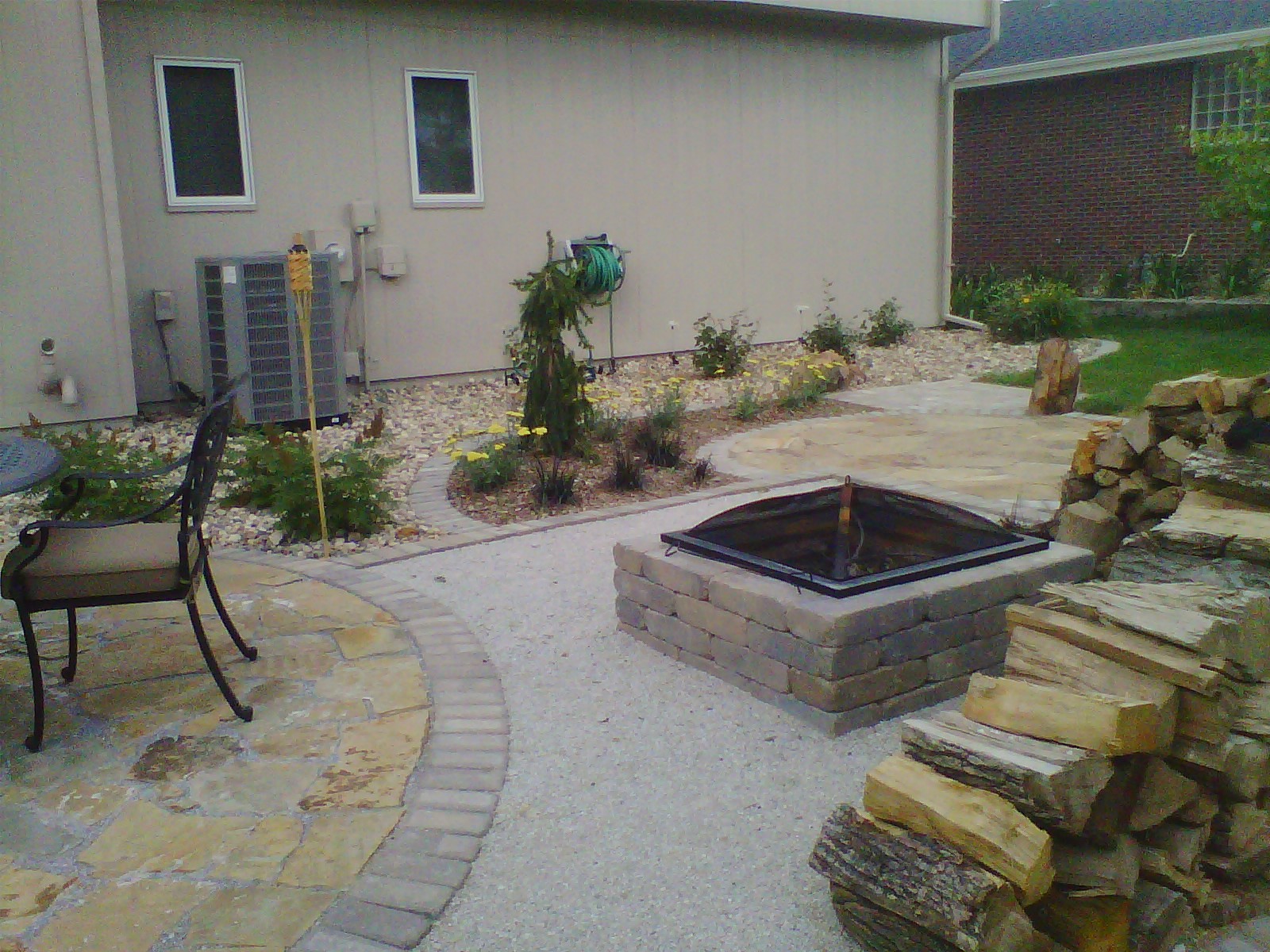 Wood Burning Fire Pit
There are many reasons to add a water feature to your outdoor space. The beauty of running water, the peaceful sound (often used to block out traffic or other city noise), the attraction of birds and other wildlife to your space, and even as a children's play area. The type of water feature you select should be based on the desired effect, as well as your ability and time to maintain this feature (Dee-sign does offer water feature maintenance). Concrete fountains and bubbling boulders are the simplest way to get that tranquil water sound, but there are actually many low maintenance options when it comes to water features. Please do not confuse 'low maintenance' with 'no maintenance'. It is only right, as a contractor that you fully understand the commitment of a water feature. If you want the sound, but not the work, a pondless feature with top of the line pumps and equipment is going to be your best choice. A pondless feature can have one or several bubbling boulders, a sculpture, or a small stream and water fall to provide the look and sound of water. These features don't require much (if any) chemicals to keep the water clean and running well because it 'self filters' through the rock below. Just a few simple tasks accompany this type of feature such as cleaning the pump filter, and making sure your water level is high enough (auto fill features are available if you have a sprinkler system to further reduce your responsibilities). A concrete fountain is one of the most cost effective ways to make a big impact in your space. Though you may have to work a little more on keeping the water clean, these features are nearly as simple as the pondless features. If you do have a little extra time, and love to 'putter' in the garden, or if you are able to hire out maintenance on a regular basis, then a pond, large waterfall, or both could be a perfect fit for your piece of outdoor paradise. No matter what kind of feature you are dreaming of, we can design and build an amazing feature to fit your needs.
When installing your water feature, it is critical to have a good installation and design team. The right tubing and equipment makes all the difference in the success of your water feature. Even rock and plant placement is more important than your realize in order to create a feature that both functions well and appears natural.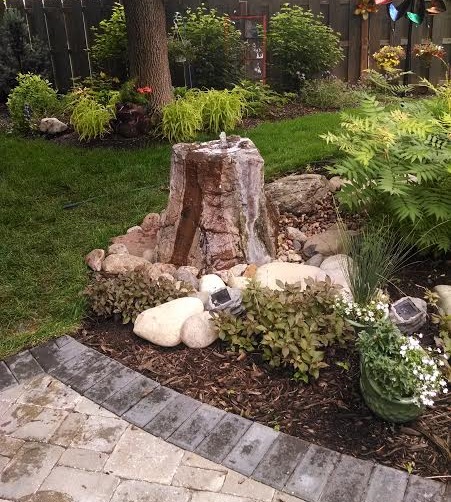 Low Maintenance Water Feature