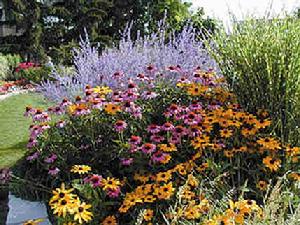 Black eyed Susan's, cone flower, zebra grass, Russian sage
Catmint (Nepeta), Salvia and Daylillies are very long blooming tried and true perennials that require very little care.
While these tend to be no fail plants, there are many more plants to choose from.
Develop a bee and butterfly haven with Bee Balm (Monarda), Yarrow (Achillea), Gayfeather (Liatris), Husker Red or Dark Towers Penstemon.
Feed the finches with Purple Coneflower (Echinacea) now offered in glorious new colors.
Hybrids like 'Julia' are sure to please the birds as well as your eyes.
Add an exciting four seasons of interest in the landscape with plants that bloom at all different times and add foliage color to take it up another notch.
We have plants like Astilbe, Spider Plant (Tradescantia), and Siberian Iris that will do well in the wet area of your yard.
Boltonia, Gallardia, and Tall Garden Phlox will thrive in that hot, dry area.
Even if you have the proverbial black thumb, we can start you with some of the easiest to grow, and advise to guarantee success.
After succeeding, with our help, you may just find out you love gardening!!!