If you don't see your question answered here, please call us at 402-392-1444 and we'll do our best to answer any questions you may have.
---
What is Landscape Design?
Landscape design is a beautiful art form that involves a number of services and skills that not only keep your property looking great, but it also develops the foundation for a sustainable, manageable environment. Whether you are interested in permaculture, edible landscaping, sustainable practices, increasing property value through curb appeal, or simply creating a private oasis of your own, a professional landscape design is the road that will take you there.
With the use of color, texture and creativity, a well done landscape can allow you unmeasurable amounts of joy and contentment from your surroundings. Landscape designers should be held to the highest standard in knowing both which plants and hardscape materials are going to best suit your needs. Regardless of the designer, it is your property and it should ultimately be designed to reflect you and your personality.
Why use a Landscape Designer?
Maybe you have 'dabbled' in gardening and want to learn more, or are even a master gardener that just needs a push in the right direction. Or perhaps you don't really have any interest in the "how's and why's", you just want your home to look vibrant, inviting and alive. Some are interested in raising their property value or increasing the curb appeal to sell their home. Others want their backyard to be a place where they can entertain and enjoy large and small gatherings with ease. You may long for a lush and tropical environment or your tastes could lean in the direction of simple and contemporary. Even if you are unsure of what your outdoor style is, a good designer should be able to uncover your desires for you. A professional landscape designer knows what it takes to transform your dreams into reality.
Qualified, professional landscape designers have the experience necessary to see your land at it's highest potential. *Beware of the 'professionals' working out of the back of a truck with no form of contact except a p.o. box or cell phone. Since landscaping involves more than just gardening, a professional landscape designer needs to know exactly how to build the foundation upon which landscaping relies on to thrive. Your satisfaction, as well as preventing damage to your property is important to a professional landscape designer.
A designer should know every aspect of the terrain being worked with, even building proper drainage may seem like a simple concept, but it takes years of study and experience to master. Each terrain is unique which calls for different methods and problem solving abilities. It is always best to, at the very least, consult a professional before undergoing any large renovation to your property.
What is Hardscape?
Hardscaping is any type of landscaping that deals with non-living or inanimate objects. Usually in the form of decorative or functional retaining walls, stoops, patios, stairs, firepits, driveways and pathways, Hardscape is a way of building a foundation for any outdoor space. There are a vast amount of hardscape materials available; from natural stone to concrete blocks and even color-blended tumbled concrete made to look like natural stone. There is always an absolute best choice as well as a poor choice when it comes to selecting the type of material to be used. It should be selected with care paying attention to color scheme, stability needs, use of the space, and budget requirements as well.
What is Softscape?
A softscape is the elements of a landscape that include living materials like perennials, annuals, trees, shrubs, and vegetable gardens, just to name a few. Unlike hardscape, which adds more of a concrete foundation of stability (pun intended), softscape is used to 'soften' the surroundings. It is intended to create an experience that touches on all of the human senses. With variations in color, texture, depth and scents, the living beings around you collaborate to bring out emotions like excitement or a sense of peace depending on the plantings selected. Chosen plantings should be geared toward your own personal reaction to them.
What are some challenges with landscaping in the Midwest?
In Omaha, Council Bluffs, Gretna, Elkhorn and the surrounding areas, our plant hardiness zone is considered to be between 4 and 5, implying a cold winter climate with warm summers. This means that landscaping in or near Omaha NE requires choosing trees, shrubs, and perennials that can withstand both extremes of hot summers as well as very cold winters. There is also a variable factor to the general zones of a region. These variables are called microclimates. A microclimate is the climate specific to a small area or confined space such as a cave or house. For plant communities, a microclimate can be an area protected by buildings, hills and bluffs or natural outcroppings. It could be as obvious as a valley or wooded area, or as simple as a short manmade wall.
On, the other side of the spectrum, there are also unprotected spaces such as the top of a building or hill, newly developed urban and sub-urban communities with few, small, or no trees. Consider the south side of a 'sun reflecting wall' versus a northern exposure that sees very little sunlight at all. Think of a piece of land surrounded by concrete either in the middle of a parking lot or in your front yard between the street and the sidewalk. Each of these spaces are completely different environments that provide very different growing conditions.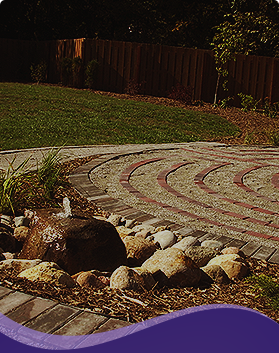 Garden Shop Omaha
From thoughtful designs to careful planning and installation, we go above and beyond to ensure your satisfaction.
Visit our Gallery